On July 8, 2013 Eric and I had an amazing opportunity to speak at an IIAM (International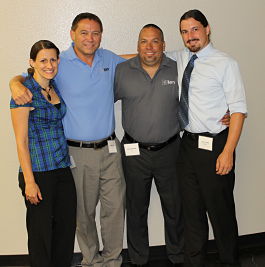 Institute For the Advancement of Medicine) training conference in Las Vegas, NV. This was a small conference focused on training medical staff from OPOs (organ procurement organizations) around the country. Five OPOs were represented as well as individuals from two research organizations, totaling about 35 people. We were able to share our story, as well as introduce the new webpage for the first time. We also focused on the need for OPOs to walk along side families who have received a terminal diagnosis, the opportunities that exist for neonatal donation (including donation for research), and the blessing/healing that donation of any type can bring to a family. We were blessed with lots of positive feedback, as well as new insight into the barriers to donation. The really special part of the conference was the opportunity to have dinner with about half of the people who attended our presentation. We were able to have some deep conversations and open up about the details from our story. We enjoyed learning more about the donation process from the perspective of the individuals who actually perform the recovery surgeries. What a great experience to glean information about the donation world.
We were also blessed to meet with a representative from the organization who received Amalya's pancreas. It was so interesting speaking with her, learning more about the organization and the scientific research being done with pancreas. The advancements being made to find a cure for type 1 diabetes are amazing. She also sent us a follow up e-mail with specific examples surrounding neonatal pancreas research. It was wonderful to learn more about the ways Amalya was able to help the medical community.
Overall, the trip was amazing. We love sharing our story, and love connecting with people who make the purposeful gift of donation possible. We feel blessed in so many ways and hope that our story will stick with the OPOs and maybe make the donation process easier for other families.