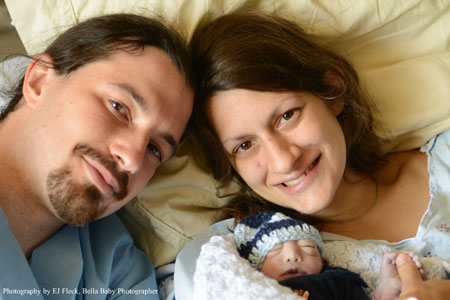 If you would like to learn more about our story you can read Amalya's Extended Story.
Our story has also been highlighted in several articles and a poster presentation.
As we walked through our journey with Amalya, we wrote newsletters to keep family and friends updated. These are the letters we sent out.
---
March 2012 Initial Letter
Dear Friends,
It is with heavy hearts that we come before you today asking for prayer and support in regards to our precious unborn child. On Monday, March 12, Bethany had an ultrasound which revealed that the baby has a very rare Neural Tube Defect knows as Acrania. This defect occurs shortly after conception and is typically discovered at the end of the first trimester. With this condition the baby's skull from the forehead to the base of the neck does not form or develop. This condition then progresses to become Anencephaly, which is where the brain does not develop fully or is destroyed by the acidic amniotic fluid. Babies with this condition are typically stillborn or die shortly after birth. We know many of you will probably want to research Acrania and Anencephaly more; we would like to warn you that this is a very disfiguring disorder and the images provided on the internet are very graphic and disheartening.
As you can imagine we will be facing a daunting road ahead with lots of difficult decisions. We ask that you pray that God grants Eric and Bethany wisdom and strength. We also ask that you pray for our family members who will be making this journey with us. We strongly believe that God does not make mistakes and know that He has a specific plan for our baby and for our family as we go through this situation. We are trusting that He will provide strength and peace.
We will be meeting with doctors on Wednesday afternoon to find out more information in regards to the baby and Bethany's overall pregnancy. At this time we do not have any other information to give, but will try to let you know information as we find things out.
Thank you for your Love and Support,
Eric and Bethany
I will Praise Him Still
By Fernando Ortega

When the morning falls on the farthest hill,
I will sing His name, I will praise Him still.
When dark trials come and my heart is filled
With the weight of doubt, I will praise Him still.

For the Lord our God, He is strong to save
From the arms of death, from the deepest grave.
And He gave us life in His perfect will,
And by His good grace, I will praise Him still.
---
March 2012
Dear Friends,
We would like to say thank you for the immense amount of love, support, messages, and prayers we have received over the past few days. We are very blessed to have so many people that care for us, our baby, our families, and who are willing to take this journey with us. Despite the difficult news, God has given us an immense peace that surpasses human understanding.
After many conversations and much prayer we have decided to fully embrace our baby and our role as parents. Although we know that our baby will have a short time physically on this earth, we are deciding to use the time from now until delivery as our time to be parents. We are going to try and give our baby as many experiences as possible now, since we will not be able to after it is born. We are planning on reading and playing music to it, taking it to places that are special to us, going camping, feeding it special food (Bethany has already feed the baby cotton candy!) and allowing our family members special times to bond with the baby. Although in some ways we feel this approach will be very difficult, we also feel that in the long run we will leave with no regrets knowing that we loved our child as much as possible and spent as much time with it as we could.
Until we find out the gender of our baby we have decided to temporarily name our child Amalya (a-MALL-e-ya) which is Hebrew for "Work of the LORD". We strongly feel that this child truly is a work of the LORD and want to be reminded constantly of that fact as we continue on this journey.
Please feel free to ask us questions about Amalya when you see us, or send us messages. Our desire is to treat Amalya as a typical child, although he/she is not physically present with us yet. We are asking that our friends and family do the same.
Please continue to pray for us as we know parts of this journey will not be easy. We are also needing wisdom and knowledge as we work with the doctors to create an action plan to give Amalya the most time possible on earth after we deliver. We are also hoping to participate in some research studies to help the medical community better understand this rare disorder. We will be meeting with doctors again on April 9, for a second ultrasound and follow up appointment. We will continue to update everyone as we receive information.
With Peace,
Eric and Bethany
It is our prayer that we stay faithful to our Lord and Master Jesus Christ as has blessed us with the gift of a child. Mathew 25:23 "His master replied, `Well done, good and faithful servant! You have been faithful with a few things; I will put you in charge of many things. Come and share your master's happiness!" Even if God chooses not to bless us with any more children, we wish to be faithful parents to the one he has already given us, and share in His joy over Amalya.
---
April 2012
Dear Friends –
The past month has been bitter-sweet for us in so many ways. We once again want to thank everyone for the amount of prayer and support we have received. It has been incredible. We have been truly blessed to see the Lord work in our situation and use our child for His glory.
On Monday, April 9, we had a second ultrasound and received the exciting news that we are having a BOY! We had a wonderful time during the ultrasound watching our little guy move all around. He didn't sit still even for a moment – he's just like his momma in that area. The ultrasound did reveal that the acrania/anencephaly is very prominent. It looks like his skull stops right above his eyebrows. At this point they were unable to determine how much brain matter was present, although it appears that some amount is there. Both eye sockets look to be intact, as does the entire spinal column. All his other organs appear to be developing perfectly, and he has a very strong heart beat. He has long arms and legs, and he is basically adorable.
We have decided to name him Amalya Nathaniel. We chose these names for their meaning. In Hebrew Amalya means "Work of the LORD", and Nathaniel means "Given by God". We are very thankful for our work of the Lord that has been given to us by God. Although it has challenged us in many ways, we still strongly feel that the Lord is doing something special with us and our little boy.
Over the past month we have enjoyed making memories with our little one. Eric has read many Bible stories to him, and Bethany has read several children's books. We have taken Amalya on several outings with Grandparents, and we planted a Japanese Maple Tree in our front garden for him. We also found out that we will be able to participate in a research study with Duke University looking for a genetic link to anencephaly.
Please continue to pray for us and Amalya Nathaniel as our pregnancy progresses. There are still many unknowns ahead and we will need wisdom as we continue on our journey.
Blessings,
Eric, Bethany, and Amalya
---
May 2012
Dear Friends,
May 8th we had the pleasure of seeing our son during our 19 week ultrasound. These are special times for us and we look forward to each one. Not only do we cherish our "family time", but we learn new things about our little boy with each visit. This time we learned that Amalya is swallowing fluid, which is great news. Many babies with his condition do not develop the swallow reflex. We also learned that his mouth is developing typically and he has no cleft palate, a complication that can occur along with the Acrania. Although this next one may sound weird, we were very thrilled to learn that Amalya has ears!!! They are a little smaller than they should be, but he has them! Again, due to this condition some babies do not develop ears. We also learned that his major organs are developing like they should, which is wonderful. His condition remains very prominent. We had several views of his skull confirming that he is missing everything from above the eye sockets to somewhere around the base of the skull. We have yet to been able to determine how much brain matter is present, although it is looking like very, very little has formed. He was extremely active again today, moving all about during the ultrasound, which was so much fun to see! We were also given his weight for the first time, and he is a whopping 10 oz! We will have another ultrasound in a month.
Since we wrote last we have continued to make memories with Amalya Nathaniel. We continue to read to him very frequently and play him music. We have discovered that he has very specific taste in food! For example, he enjoys sour candy (just like his dad, very unlike his mom), pineapple, and his dad's hamburgers. Surprisingly he does not like ice cream, which makes his momma very sad! We have had the opportunity to take him to several places including Eastwood Metro Park, Stubbs Park, and the Second Street Market. He also enjoyed his first bonfire, watched old time cartoons, and was introduced to garage sales! He currently has 2 "favorite" toys, a teddy bear which plays music, and a see-and-say! We are also blessed to be feeling his movement already (Bethany feels it daily; Eric has felt it a few times as well).
We are continuing to look for ways in which Amalya can serve the medical community. We were thrilled to find out a week ago that we will be able to donate a blood and tissue sample to an organization which will store his DNA for future research studies. This will allow him to help the science community even after he is gone. This is separate from the Duke Study which is specifically looking for genetic links to his condition. We have a few other research based possibilities in the works which we hope to finalize in the next month or so.
In closing, we would once again like to thank everyone for the thoughts and prayers. We are grateful to have so many people supporting us and taking part in our journey. We feel so blessed by our Amalya Nathaniel and pray that he is a blessing to others. We encourage you to remember how precious life is, and take time to make special memories with the ones you love.
With Joy,
Eric, Bethany, and Amalya Nathaniel
Jesus, Draw Me Ever Nearer
By Keith and Kristyn Getty

May this journey bring a blessing,
May I rise on wings of faith;
And at the end of my heart's testing,
With Your likeness let me wake.

Let the treasures of the trial
Form within me as I go –
And at the end of this long passage,
Let me leave them at Your throne.
---
June 2012
Dear Friends –
We are continually amazed at how fast time seems to go by. It's hard to believe that we are more than half way through our pregnancy. On Monday, June 4th, we had our monthly ultrasound and doctor's appointment. Our ultrasound this month was very short, but still very sweet. We treasure having glimpses into Amalya's world and getting the chance to see him. He is continuing to grow, and still has very long arms and legs. His organs are doing well, and he is continuing to swallow fluid, which is amazing. They are estimating his weight at 1 pound 3 ounces. We are encouraged by his continual growth and development.
During our doctors appointment we also made some decisions in regards to our birth plan. After much prayer, research, and many conversations, we have decided to deliver via C-Section. We feel this will give Amalya the best chance of being born alive. We have also decided to deliver a few weeks early (we will deliver at 37 weeks), as many of these babies pass away in utero during the last few weeks of the pregnancy. We are excited to announce that Lord willing, we will meet Amalya Nathaniel on Sept. 10, 2012 at 7:30 am! Please pray that Amalya Nathaniel continues to grow and that we will make it to our delivery date.
We have spent a lot of time this past month looking into ways we can help the science/medical community in the area of research. Unfortunately, many of the avenues we pursued have not worked out in the ways we had hoped. We are continuing to do more research, and will pursue as many options as possible. At this point, there do not seem to be many more options left to explore.
This month has brought many opportunities for us to make treasured memories as a family. Some highlights include bringing Amalya Nathaniel to Waffle House (one of our favorite places to indulge), taking him swimming for the first time, going to Hills and Dales Metro Park, and spending a day at the Columbus Zoo. The Columbus Zoo was a very special treat. We both felt that all kids should go to the zoo at some point, so we were thrilled to take our son. We are amazed how much he has incorporated himself into our daily lives. One way he has done this is by kicking and moving non-stop!!! We have spent many evenings with hands on the belly so we can feel him move all around.
Finally, we feel blessed to share how Amalya has given us a unique opportunity to develop and deepen our walk with the Lord. This past month we have learned a great deal about walking with the Lord in joy, and submitting to his divine purpose even in the most difficult situations. We have had so many amazing moments of joy, excitement, and praise since Amalya's diagnosis, which may be surprising to some people. We know that our true tendency would be to focus on the negatives and be lost in despair, yet we have found that by submitting our wills to the Lord's ultimate purpose, we have found peace, strength, and joy. We can truly say how amazingly blessed we are, and we are so thankful to have Amalya Nathaniel as part of our lives.
As always, we are grateful for all the support and prayers. Please continue to pray for us to have strength in our journey, and that we may continue to see Amalya Nathaniel grow as long as possible.
With Love,
Eric and Bethany
---
July 2012
Dear Friends –
What an exciting month we've had, full of happy memories. This month we were blessed with two ultrasounds. On Monday, July 2, we had our typical ultrasound and doctor's visit. During this ultrasound, we were happy to learn that Amalya has small tufts of hair on the side of his head just below his ears! This was a shock to us since he does not have much skull. His organs were all functioning well, and he is continuing to grow at a typical rate. On Saturday, July 7, we were very blessed to have a 3D ultrasound. This was provided by a non-profit organization called Sustaining Grace. The point of this ultrasound was to give us some time to bond with Amalya without having to critically analyze him medically, but rather just enjoy seeing him as our little boy, alive and well. During our 25 minutes, he put on quite a show! He moved all over, waving his arms, blinking his eyes, and he even stuck out his tongue. The ultrasound revealed that he may have more forehead then we originally though, perhaps up to an inch above his eyes. It also looks like the back of his head may come up to the middle of his occipital bone (where you feel a bump in the back of your head between your ears), which is again, much higher then we originally thought. We obviously won't know anything for sure until he is born. Over all we were just excited to see our little guy, spend time with him, and fall in love with his chubby cheeks.
As stated before, this month was FULL of memory making. A few highlights include kayaking (Eric did most of the work), going to a Dayton Dragons and a Cincinnati Reds baseball game, and celebrating the 4th of July watching fireworks at Riverscape with family. We also spent an afternoon having a picnic at one of Eric's favorite childhood parks. We treated Amalya to his first McDonald's Happy Meal then played on the playground at the park. We like to guess that the swings were his favorite. We were able to bring Amalya to his first concert where we saw Christian artist Michael Card perform. One of the best highlights (other then the ultrasound) was Amalya's 24 week "life day party", a celebration in lieu of future birthday parties. The party was complete with streamers, big balloons, and a huge cake with special decorations. We were blessed to celebrate with many friends and family.
This month also brought further planning for Amalya's arrival and departure. Many of you have asked us questions about some of our plans, specifically if we have considered organ donation. The answer is yes, not only have we considered it, we have spent a lot of time looking into options. Sadly, due to federal and Ohio legislation, organ donation is greatly restricted for babies with anencephaly. The only possible donation would be a heart valve donation if Amalya weighs over 6 pounds after he is born. No other organs can even be considered. Unfortunately, due to the missing part of his skull and brain it is unlikely that he will meet the weight requirement. We have also looked into donating his body to science for medical research or education. So far, we have been unable to find an organization who will accept an infant cadaver. We do not share these things to be gruesome, discouraging, or debate people's views on organ donating or cadaver labs; rather, we want to share that we have tried our best to allow our son to be used by the Lord in every way possible. At this point, we are unsure of how the Lord will choose to use Amalya after he passes, but are open to whatever that might be.
We have been blessed this month by seeing the Lord's provision in our lives. He has richly blessed us with family, friends, and some amazing memories with our son. We are continuing to learn how to fully rest in the Lord's goodness, rely on His grace, and trust His ultimate purpose for our lives and Amalya's situation. We look forward to what the Lord has for us in the next 9 weeks. We ask that you pray for endurance and peace during the weeks to come.
With hearts fully blessed by His goodness,
Eric and Bethany
---
August 2012
Dear Friends –
It is hard to believe that we have less then six weeks before meeting Amalya Nathaniel in person. This month was busy making more plans to welcome him into the world and making memories before he gets here. On Monday, July 30, we met with our doctors and a variety of hospital staff (about ten in all) to discuss our birth plan for Amalya. We felt so blessed to share our plans with hospital staff and discuss all the details and possibilities surrounding his birth day. The hospital staff was amazing and accommodated all of our requests. We are already feeling an incredible peace about his birth, knowing that we have so much support. On Tuesday, July 31, we had our 31-week ultrasound. As always, we enjoyed seeing our little guy and spending time with him. Amalya continues to grow, although he is very small. He is in currently measuring in the 25th percentile and is less than 3 lbs. Our favorite part of this ultrasound was one point when it looked like he blew us a kiss. We even got a picture of it!
During our ultrasound we did learn that I (Bethany) have developed polyhydramnios, a condition where there is an excess of amniotic fluid in the amniotic sac. Although this condition only occurs in about 1% of pregnancies, it occurs more frequently in pregnancies with anencephaly. This condition occurs for a variety of reasons, but in cases with anencephaly, it is typically because the baby is not swallowing enough fluid to keep up with the amount of fluid being produced. Anencephaly typically hinders the baby's swallow reflex. The main problem with this condition is the potential for premature labor. The second problem is a significant amount of discomfort for the mother. At this point, we are not sure what to expect as far as labor is concerned, but we are mentally preparing to meet our little man whenever the Lord decides the time is right. We even have our hospital bag packed so we will be prepared for any situation.
Our main memory-making highlight this past month was the joy of camping! We love camping as a couple, and we were thrilled to bring Amalya on his first camping trip. Amalya enjoyed amazing campfire food, and two pretty awesome s'mores made by his daddy! He also enjoyed the campground's "Christmas in July" celebration complete with Christmas decorations, a parade, and a Christmas themed carnival! This past week we have switched gears and have enjoyed family time while watching the Olympics on television! What a treat for Amalya to experience the summer Olympics!
We would like to ask you to join us in prayer for wisdom, endurance, and peace as we begin the final leg of our journey. We are trusting in the Lord's perfect timing when it comes to Amalya's birth, whether we meet him early due to the polyhydramnios or as planned on September 10th. We have seen the Lord guide us during our entire pregnancy, and know He will continue to do mighty things in accordance with His ultimate will. We are so grateful for the work of the Lord growing inside us and are eager to see what the Lord still has in store for us.
With great expectations of things to come,
Eric and Bethany
"And I said to the man who stood at the gate of the year: "Give me a light that I may tread safely into the unknown." And he replied: "Go out into the darkness and put your hand into the Hand of God. That shall be to you better than light and safer than a known way."
From "God Knows" by Minnie Louise Haskins
---
September 2012
Dear Friends,
On Thursday, Aug. 30, we had the pleasure of seeing our sweet Amalya during our 35-week ultrasound. It was a bittersweet experience for us as this will be our last ultrasound before meeting Amalya face to face. We felt so blessed to have had one last time to watch our little guy wiggle and move free from the harm of the "outside world". During our ultrasound we watched Amalya play with his umbilical cord, kick his legs, and squirm continuously. What precious moments these were for us, memories that we will always hold dear. During the ultrasound, we learned Amalya is measuring in the tenth percentile in size, and weighs less then 4 pounds. He is very tiny, but appears to be doing well in all other areas. At this point, we do not expect him to get much bigger before he is born.
This month was a little different for us. If you remember, I (Bethany) received the diagnosis of polyhydramnios (excess build up of amniotic fluid) at the beginning of August, and not only was I very uncomfortable much of the time, but we went through each day knowing we could go into labor early. Facing the reality that our time with our little one could be cut short, we did our best to live life to the fullest, and make the most of our time as a family. (It is amazing how much motivation you receive when you do not know how much time you have left with someone you love.) We went on several adventures, and made many sweet memories at home. Some of these included hiking at John Bryant State Park, a favorite place to hike near Dayton; spending an afternoon at the same park we went to at 15 weeks; doing lots of baking and cooking as a family; and spending time with grandparents doing fun activities. Eric also finished reading a children's story book Bible which was given to Amalya (we had started reading it back in March). We were also able to spent a day with good friends at Young's Dairy farm, a local favorite, where we had ice cream and played putt-putt golf.
Thankfully we made it through August with out going into labor! At this point, we are still at risk of going into labor early, but we are hoping to make it to our scheduled C-section date of Monday, September 10. It is very surreal knowing that in a few short days we will be meeting our sweet Amalya Nathaniel face to face. We are very excited about meeting him, holding him, and spending time with him. We are praying that the Lord grants us some time with him alive before he goes to be in the arms of Jesus. Please continue to pray for us to have strength during the days to come. We know that the days leading up to Amalya's birth will be bittersweet in so many ways.
Looking back over the past 6 months we feel blessed to have had some amazing experiences with our son, and hope to squeeze a few more in during the next few days. We feel even more blessed for the opportunity to draw closer to our Lord and Savior in a new way and learn to trust His ultimate plan for our lives. We are thrilled to say that we have seen Amalya touch the lives of many, and we are so proud that the Lord has allowed him to be part of our lives. Next time we write it will be to share the story of his birth! We are already looking forward to writing that letter!
Thanks to everyone for all the love, support, and prayers. We are thankful so many walked with us through this journey.
With eagerness and excitement,
Eric and Bethany
Philippians 4: 6-7 "Do not be anxious about anything, but in everything, by prayer and petition, with thanksgiving, present your requests to God. And the peace of God, which transcends all understanding, will guard your hearts and your minds in Christ Jesus."
---
September 2012 Final Update Letter
September 15, 2012
Dear Friends,
What a joyous and unforgettable day we had on September 10 as we welcomed our son, Amalya Nathaniel, into the world at 7:51 AM. From the moment the doctors placed him in our arms, we were absolutely in love. Amalya was more precious than we could have ever imagined. He never moved or made any sounds, but he did open his eyes, and we know he felt our love. We spent about 30 minutes as a family in the operating room as the doctors finished the surgery. During those precious minutes, we told Amalya how much we loved him, we snuggled and kissed him, and we held him close. We were so thankful that he was born alive, and so proud to be his parents.
After the surgery was complete, we went back to our room where Amalya was greeted with overwhelming love from the rest of his family. We are so blessed to say that all the grandparents and great-grandparents were able to hold Amalya while he was still alive. We had prayed for this, and we were thrilled that the Lord granted our request. After a very fast 80 minutes, our sweet little boy took hold of the Lord's hand and entered into the loving arms of his Creator. Although his time with us was short, it was much more than we had expected, and every moment was filled with overwhelming amounts of love, praise, and joy. He never struggled or appeared to suffer while he was with us; rather, he looked calm and peaceful the entire time.
After our sweet one had passed, we spent the rest of the day letting family and friends hold and snuggle him, as we celebrated his life. In the afternoon, we had a birthday party, complete with cupcakes, a birthday banner, a candle, and a tiny "Birthday Boy" party hat. We all sang "Happy Birthday" as we choked back tears. We were blessed to be able to do several memory making activities such as putting his hand and foot prints in our Bibles, printing his hands and feet in clay, changing him into different outfits, and taking tons of photos.
By 8:15 PM it was time to say goodbye to our precious Amalya Nathaniel. Before letting him go, we had a time of prayer with everyone gathered close, and then let each person hold him one last time. Once everyone had left the room Eric and I spent a little time showering love on our sweet baby, and savoring our last few moments together as a family. Handing him over to the nurse for the last time was the hardest thing Eric and I have ever done, but in that moment, we felt the Lord's presence and comfort in a new way. As we are promised in scripture, the Lord is close to the broken-hearted, and comforts those who are mourning. This became very real to us, as we felt the Lord's presence in the room bringing comfort and a peace that surpasses understanding.
During the last few weeks leading up to Amalya's birth, we went on several more memory making activities, and found ourselves blessed in many ways. One of the biggest blessings was a miracle which occurred on Friday, September 7. With only a few days before his birth, we found out that Amalya would be able to donate his liver, pancreas, and aorta to various research studies (not transplants), as well as participate in a whole body donation for training doctors in a specialized pediatric procedure. We had been told on several occasions that all doors in regards to donation had been closed, and that there would be no possible way for him to donate. Yet, in one short day (instead of what normally would have taken weeks), the Lord worked out all the details, and allowed our little guy to be used in many ways after he had passed. We had hoped that Amalya would be able to donate one organ, yet the Lord allowed him to donate three organs, his whole body, and donate blood and DNA samples for two other research studies. On top of everything else, the organ recovery was able to take place right down the hall from our room, so we were only separated from him for a short time.
It would be a lie to say that the September 10 wasn't a difficult day, because it was difficult, but we feel that the 10th brought more joy then difficulty. We feel so extremely blessed that we had some time with our sweet little boy alive, that we were able to share his life with our family and friends, and that he will continue to be used for medical research after his death. We are so thankful for this work of the Lord that was placed in our lives. We are forever changed because of our precious Amalya Nathaniel and we will always hold him close to our hearts. It would take a book to describe all the things that the Lord did in and through our son. We know our little boy impacted the lives of many, and we hope his story will continue to minister to others. We are thankful to serve a mighty Lord who holds our best interest in mind, even when He allows us to walk through difficult times. We feel blessed that the Lord allowed us to be a part of this special boy's life.
We want to close by thanking everyone for taking part in our journey and walking with us for the past several months. We have been so blessed by the enormous amount of support, love, encouragement, and prayers we have received. We want to say an extra special thank you to our families who helped carry us through when things were difficult, helped us to create special memories during our pregnancy, and celebrated every moment of Amalya's life. We know he felt your love!
With hearts full of love, gratitude, and praise
Eric and Bethany
"I prayed for this child, and the Lord has granted me what I asked of Him. So now I give him to the Lord. For his whole life he will be given over to the Lord."
1 Samuel 1:27-28
When I Get Where I'm Going
By Brad Paisley

When I get where I'm going,
And I see my Maker's Face,
I'll stand forever in the light
Of His amazing grace.
Yeah, when I get where I'm going,
There'll be only happy tears.
Hallelujah!
I will love and have no fear.
When I get where I'm going,
Don't cry for me down here.
---
Amalya's Extended Story
In January 2012, my husband and I learned that we were pregnant with our first child. We were beyond excited. Not only was this our first child, but this would be the first grandchild for three sets of grandparents. We began making plans right from the start and could not wait to welcome this new life in the world.
In March 2012, we had an early ultrasound (I was 11-weeks, 2-days), and we were shocked to learn our baby had anencephaly. My husband and I had never even heard of this condition. We were in utter disbelief, and our world felt like it was turned upside down. Despite this devastating diagnosis, we made the choice to carry to term, embrace our child's life, shower our baby with love, and make as many memories as possible. We decided to create a "baby bucket list" of all the things we would have wanted to do with our child if he had been healthy and lived a typical life. We took our baby to all our favorite places, spent the day at the zoo, went camping, had special events with our family, gave the baby special food, read to the baby, and did our best to give our baby as many experiences as possible. At 15 weeks, we learned we were having a baby boy. We decided to name our baby Amalya Nathaniel. In Hebrew, Amalya means "Work of the Lord" and Nathaniel means "Given by God." From the very beginning, we felt like the Lord had a specific purpose for our baby. We didn't understand what that purpose was, or why it needed to involve our child passing away shortly after being born, but we knew the Lord did not make a mistake when he created our child with this condition. For us, our precious little baby was truly a "Work of the Lord, Given by God" and we always wanted that to be at the forefront of our minds.
As we bonded with our baby and made memories with him in utero, my husband and I started talking about end of life matters. We decided that not only did we want to make the most of our son's life, but we also wanted to make the most of his death. We truly wanted to allow our son to make as much of an impact on this world as possible. To do this, we decided to pursue organ donation as well as whole body donation. We felt this would bring extra meaning to his short life. We started exploring various options a short time after receiving his diagnosis. Unfortunately, things did not go smoothly as we pursued donation options. The places we contacted in regards to whole body donation said they did not work with infants. The places we contacted in regards to organ donation said that unfortunately, due to his condition, he did not qualify for donation. Although we were saddened to hear these things, we decided not to give up, and chose to continue to pursue options throughout the pregnancy and prayed that the Lord would open a door for us to donate.
As my September due date drew near, we created a very specific birth plan and met with our doctors and hospital to communicate all our wants and needs. We were very blessed that both our hospital and doctors were willing to be supportive and accommodating. After speaking with them and doing a ton of research, we decided to deliver via C-section at 37 weeks. We felt that this would give our son the best chance at being born alive, which was very important to us. This would also allow our very large family to all be present at the hospital for his birth and spend time with him after he was born.
The weeks leading up to our son's birth were filled with a mix of emotions. We were heartbroken to know that we were not going to be keeping our boy, but we were so very eager and excited to meet our son. During our pregnancy, the Lord used our son to touch the hearts and lives of many people and allowed my husband and me to minister in ways we would have never expected. We were so thankful for this little life the Lord had gifted us with. Yet, we still wanted to do more and found ourselves extremely saddened that we would not be able to participate in donation. Then on Friday, September 7, 2012 (three short days before my September 10 delivery), I made one last phone call to ask about donation options and that day a miracle happened… We learned we would be able to donate our son's liver, pancreas, and whole body, all for scientific research. Each gift would go to a different research group who would use his donations to study cures for childhood illnesses and develop life saving techniques for the pediatric population. We could not be more excited. We went into our last weekend so full of joy. We knew we did everything to make the most of our son's life, and now his death would have a deeper meaning.
On Monday, September 10, 2012, we finally got to meet our sweet Amalya Nathaniel face to face. It was an amazing, incredible, indescribable event. My husband was in the operating room with me the entire time, and as soon as the doctors took Amalya from my stomach, they laid him on my chest. It was true love at first sight. I looked at my husband and said, "He's so precious…I wasn't expecting him to be this precious." We were so blessed that our little guy was born alive and even had his eyes open. My husband and I spent the remainder of my operation telling our boy how much we loved him and how special he was. Eric was able to clean him a little and get him weighed. He was 4 lbs 9 oz!!! We both were able to have skin-to-skin time before we left the operating room. Once the doctors were finished, I was brought back to my room where our entire family waited to meet Amalya. Each of the grandparents took turns holding him. All six grandparents and three great-grandparents were able to hold him while he was still alive. The aunts and uncles were also able to meet him while he was alive. It was so amazing to see our family welcome him with open arms and love him for who he was.
Just over an hour after Amalya was born I looked up and I realized he was getting ready to leave us. Eric had been holding him, but handed him back to me. The nurse checked his heartbeat; it was only at 5 bpm. My dad, who is a pastor, laid his hand on our son as I held him close. He then prayed over our boy as he took hold of the Lord's hand and entered into his eternal rest. Tears streamed down my face as I kissed my sweet baby's cheek. In that moment, I could feel my heart break. Amalya Nathaniel was with us here on earth for 37 weeks in utero and 1 hour and 20 minutes in our arms. Although he never moved or cried, I know he felt our love and his entire life was spent in the arms of those who cared for him deeply.
Once he had passed, we spent some time taking pictures and making sure each family member had the chance to hold him. Then it was time for him to go for his organ procurement surgery. Eric walked him down the hall to an operating room where a special team of recovery surgeons was waiting. About two hours later they brought Amalya back to us. We were told the recovery went extremely well and that the organs were in great condition for the researchers. We were thrilled.
We spent the rest of the day celebrating our little guy. We took tons of pictures, made prints of his hands and feet, and gave him lots of hugs and kisses. We even had a birthday party complete with cupcakes, a "birthday boy" hat, a "0" candle, and a tear filled round of happy birthday. Twenty-seven people were able to join us for his party. Friends and family stayed with us all day. It was an incredible experience. Although there were tears and sadness, joy overflowed from our room that day. I can't even describe in words what it was like.
At the end of the evening, it was finally time to say goodbye to our precious boy. Because we chose to participate in whole body donation, he needed to be cooled within twelve hours of passing. Each family member said a final goodbye, and then Eric and I spent some time alone with him. We held him tight, prayed over him and wept. Finally, we called for the nurse and handed our sweet boy over for the last time. The moment I let him go, my heart shattered. It was the hardest thing I've ever had to do. I was so in love with this sweet gift from the Lord, but I knew it was time for him to fulfill the rest of his purpose here on this earth.
In the weeks and months that followed, Eric and I were blessed to be supported by our family. We found great comfort in the knowledge that the Lord had a unique purpose for our son and we began to heal from our loss. In those months, we were blessed to hear from each of the researchers who had received our son's gifts. We were blown away to learn how his organs were used and that his gifts would help save and better the quality of life for thousands of other babies in the future. Amalya Nathaniel was at his "internship" (whole body donation) for eight months before we received his ashes back. We were thrilled that he could be used for such an extended amount of time.
About eight months after his passing, I decided to create a website about neonatal organ donation to help other families who might be interested in pursuing donation after a terminal diagnosis. In June 2013, Purposeful Gift was born. I created the site in honor of my boy and his donation, as well as all the babies who will be able to donate in the future. Donation has brought Eric and me a very unique layer of healing, pride, and joy. We are so very proud of our son and are excited that his life and death had such an impact on our world.
Our journey with anencephaly was heartbreaking, but it was also a journey filled with joy. The Lord used our son in so many ways and we feel so blessed that the He allowed us to be Amalya Nathaniel's parents. We do not regret our journey for one moment, even with the pain, it was worth it! We will forever be blessed by our son, and will hold the memory of our son close to our heart as we do our best to keep his legacy alive.