Late the other night I realized it had almost been a year since he came home. Amazed at how fast time goes by, I went and got my calendar from last year to double check the date. Sure enough written in the square for May 23, I had written "Amalya came home".
A little over 8 months after sending him off on his "internship" (whole body donation) to serve the medical community, my baby boy finally came home. It wasn't in the conventional way, fastened safely into a car seat, dressed in a special outfit, and carried in by giddy parents a few days after being born. No, he arrived around 7:30am via FedEx, in a small gold box protected by a thick layer of bubble wrap. Along with his remains, his hospital blanket and onsie that we sent him away in also came home. This is not the way a parent envisions their child's homecoming experience would be like, but it was our reality. I remember being overwhelmed with emotion as I held the tiny box filled with his remains. I thought back to the moment I held him for the first time after he was born. I pictured his sweet face and smiled. I thought about how happy I was to have him home with us finally, but also how sad I felt because he was no longer serving the medical community. While he was away at his internship it almost felt like he was still alive in a sense, and when he came home, it was as if he died all over again. Having him home brought such a mix of emotions: sadness that this chapter in our son's story was over, joy over having him home for the first time, pride for all the things he helped the medical community discover, a newly discovered sense of closure, and a mix of motherly love laced with sorrow. It's amazing how so many emotions can flood a single moment. That night we carefully placed his ashes in his butterfly music box and brought him to our room where I had prepared a special shelf for him. This special place replaced the nursery that we had originally dreamed of after discovering we were pregnant. As I went to bed that night I remember thinking…. Wow, my son is home.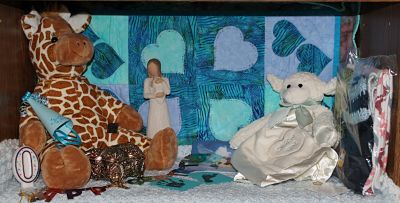 Two weeks ago, I was flooded with a whole new set of emotions as I carried my tiny daughter, Hazel Rinoa, into our house just two days after she was born. Home. I brought my daughter home! Fastened safely in a car seat, dressed in a special outfit, giddiness filling my head. Home. The conventional way. Such a stark difference in comparison to Amalya's homecoming, yet the same amount of love poured out of my heart the moment she came home. As we walked from the car towards the house, we stopped at Amalya's tree for a picture. This moment was also filled with a wide mix of emotions: excitement over this new life, wonder over who she will become and how she will impact the world, a heavy ache in my heart for Amalya Nathaniel, and a new sensation of a different type of motherly love. I smiled as I looked down at her "little sister" onsie, realizing how surreal all this was … my daughter was home.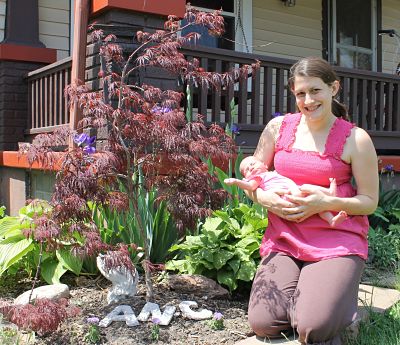 As I sit and write this I think about how I am a mother of two, and I feel blessed. I am thankful for the opportunity to be a mother to both Amalya Nathaniel and Hazel Rinoa. I am thankful that I have a house filled with love and that both my children are home!