Purposeful Gift was in "full bloom" during May! The month started with an amazing opportunity for me (Bethany) to speak at the American Transplant Congress Conference in Philadelphia. I was a co-presenter for a Lunch and Learn along with a good friend and colleague from IIAM. Although this particular conference was focused on transplant, the goal of our Lunch and Learn discussion was to share about the new options that exist for neonatal donor families in the area of research donation. It was wonderful to share the advances being made for neonatal donor families, as well as resources to help both professionals and families who choose this option. After our presentation we facilitated an in-depth group discussion with members from our audience which was comprised of attendees from both the US and Europe. I was extremely grateful to be able to participate in this awesome event.
During my trip to Philadelphia, I had the joy and privilege of meeting another momma who had a baby with anencephaly. Jenna, mother to baby Shane (AKA the "bucket list baby"), made the choice to carry Shane to term, to embrace his life, and to love him as much as she could. It was wonderful to sit with her over lunch and talk about our boys! We were able to share the good, the bad, the heartbreak, and the joys that we have experienced during our journeys. We had such an amazing time! I love the instant connection we had because of our journeys and our sweet boys' lives. Although I wish we did not have to meet under these circumstances, I am thankful for the friendship we have and the strength we can share with each other.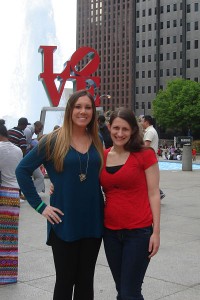 Mid-May brought a huge surprise when an article I had written in April for a website called The Mighty was featured on Yahoo's home page (you can view it here)! Never in my wildest dreams did I expect this article to be featured on such a large platform. The article quickly attracted tons of attention and by evening it was "trending." At one point I was able to take a screen shot with nearly half a million views. It was also shared hundreds of time on Facebook. The next day I got a call from a reporter who works for Dailymail.com, and I had an interview that afternoon, followed by a second article being featured on the Dailymail.com homepage (you can view it here) which was shared several hundred times. I also learned that the Yahoo! article was translated into three other languages and was featured on several different countries' versions of Yahoo.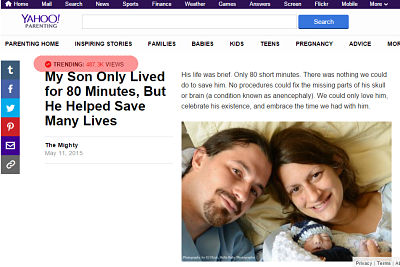 Although it was exciting to have something I wrote be seen by so many people, and my momma's heart beams with pride over the impact my son is still having. I think the best part is the fact that it brought awareness about neonatal donation! My hope is that other families will be able to participate in donation if they are faced with a fatal fetal diagnosis or infant loss. I hope that healthcare professionals will become aware that options exist and will start providing accurate information when asked about neonatal donation.
It was also wonderful to receive e-mails from many people thanking us for being willing to donate, but also sharing their own stories of neonatal donation – some occurring 30-40 years ago. It was awesome to hear how donation brought healing to these families and how even now, years later, these families are happy they made the choice to donate!
May ended with another opportunity for Eric and I to share our story by speaking at a workshop for IIAM. This was our fifth time speaking at this particular workshop, and it has become one of our favorite events. We enjoy connecting with the participants, discussing neonatal donation, and encouraging the various organizations to embrace neonatal donor families. During the workshop we were also able to meet one of the researchers who utilize donations from neonatal donors. It was amazing to hear about the work this researcher is doing and how it will impact thousands of lives in the future. I look forward to sharing more about that topic soon!
As we enter June, we have already begun our next project: translating our forms, documents, and the entire website into Spanish. We received a request from an organ procurement organization to provide some material in Spanish, and thanks to the wonderful efforts and support of a Spanish speaking mom in the anencephaly community, we have already added these two documents to the website, and we will move forward over the summer!
Spanish – Neonatal Donation Preliminary Information Document
Spanish -Request to Contact OPO Document
We look forward to seeing what comes over the summer months. If there is ever a way we can serve you, or ways that you think Purposeful Gift can serve the community, feel free to contact us!