Earlier this month I had the amazing privilege of presenting for the American Association of Tissue Banks at their annual conference in San Diego, California. Nearly 800 donation professionals were in attendance. This was by far the largest audience that I have ever presented in front of. Despite my fears of speaking in front of so many people, I was honored to have the opportunity to share my son's story, explain the importance of neonatal donation, and encourage the members of the audience to embrace future families.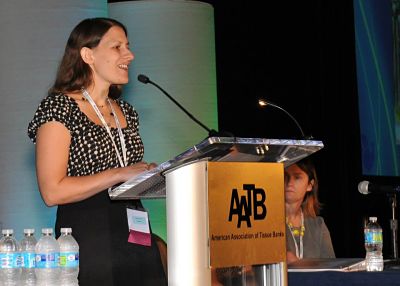 This conference was also special because I was able to present in conjunction with another neonatal donor mother. Although our stories contrasted in many ways (her son donated for transplant, my son for research; her son passed unexpectedly after just a few days of life, I knew mine would pass after only a few minutes; she had to embrace donation without time to prepare, I searched for donation options for six months), both our presentations had a common message: neonatal donation, whether it is for transplant or research, can bring healing to the donor family, can add an extra layer of meaning to a baby's life that is brief, and will ultimately save the lives of other children. The response to our presentations was amazing. I am happy to say that many donation professionals were touched by the message we had to share and several expressed a desire to learn more about the new options that exist for neonatal donors and their families.
I am thrilled to know that things are continuing to change for the positive when it comes to neonatal organ, eye, tissue, and whole body donation. More options for donation are becoming available every day and more organizations are beginning to support neonatal donation. Many organ procurement organizations are even creating special neonatal donor programs to assist families in a more comprehensive way. All of this translates into lives being saved, donor families being able to create a lasting legacy for their little one, and hopefully experience a unique form of healing.
I am very thankful that the AATB allowed me to have this amazing opportunity to share my heart and passion on the topic of neonatal donation.
This week I was also excited to learn that AlloSource, a tissue bank based in Colorado, decided to highlight our story on their educational page, Allograft Possibilities. Thank you, AlloSource, for this honor.
September was a very special month in many ways and I'm eager to see what October will bring.